Exciting News!  I have a 2018 book, EVERYWHERE YOU WANT TO BE, on it's way:
IT STARTED WITH GOODBYE
May 9, 2017 from Blink/HarperCollins
"You won't be able to put this book down. This heartfelt read totally sucked me in.  A (Prince) Charming read." – Miranda Kenneally, author of Catching Jordan

"Honest, fun,and entirely compelling, this is a story about how being inthe wrongplace at the wrong time can lead to a whole lot of right. Tatum is acharacter you'll relate to, cheer for, and want to befriend." – Laurie Elizabeth Flynn, author of Firsts
"Tatum's complex and realistic relationships with her friends, family and the potential love interest will have you savoring every chapter while heavily anticipating the next. It Started With Goodbye is an adorable and clever contemporary that will enthrall you with its fairytale-esque charm." – Ami Allen-Vath, author of Liars and Losers Like Us
"I loved this fun, contemporary take on the Cinderella tale that explores what it takes to be yourself while finding your place in life, love, and your family. June's characters are vividly drawn, complex people that you'll want to root for, and Tatum's story will strike a chord for anyone who's felt like they were misunderstood." – Lisa Maxwell, author of Unhooked, Sweet Unrest and Gathering Deep

"A sweet and satisfying portrait of family, friendship, and discovering your own path. Tatum's journey from fear and disappointment to honesty and freedom to be herself is one that will resonate with many readers." – Ashley Herring Blake, author of Suffer Love
"A fresh, charming debut, brimming with friendship, family, and love." – Marci Lyn Curtis, author of The One Thing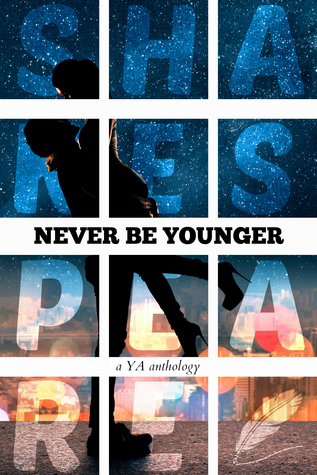 Never Be Younger: A YA Anthology
Classic story meets the modern world…and out of this world.
From the halls of a high school to hip night clubs to the depths of space, Never Be Younger gives Shakespeare's classic plays and sonnets a fresh spin for a new audience. Nine authors pay tribute to the Bard by taking his timeless tales to new heights, entrancing readers all over again. A Shakespeare story by any other name still reads as sweet.
All proceeds from the sales of Never Be Younger go to United Through Reading, a charity dedicated to uniting military families through reading.
Praise for THE SCARF, a retelling of OTHELLO:
"The first two stories, a space age Romeo and Juliet and a modern day Othello set around the politics of high school, were everything that I wanted. They were engaging and conveyed the spirit of each play. I think my students would enjoy comparing them to the originals."
 – Nicole at https://handhelddream.wordpress.com/
"I really loved this one. Twisty backstabbing high school drama. Great characters, great story building. Would have loved to see a full fledged novel for this one."
– Heather at http://sunsetxcocktail.booklikes.com/
" June stayed true to the spirit of Iago and his malevolence with a setting that was purely modern high school."
Amanda at http://guninactone.wordpress.com/